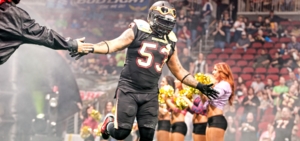 Lewis Selected Second Team All-Arena Defense
Iowa Barnstormers DE Mike Lewis Earns AFL Season Honors
DES MOINES – Iowa Barnstormers defensive end Mike Lewis has been selected Second Team All-Arena Defense for the 2014 season, the League announced today.
Lewis (6-2, 260, Adrian College) played another outstanding season as one of the cornerstones of the Iowa Barnstormers defense. In 18 games, Lewis tallied 34.0 total tackles, 25 solo and 18 assists. In addition, he led the Barnstormers team in sacks (9.5), forced fumbles (5), and fumble recoveries (3).
For more information about the Iowa Barnstormers, log onto www.theiowabarnstormers.com or call the Barnstormers Front Office at 515-633-2255.
###