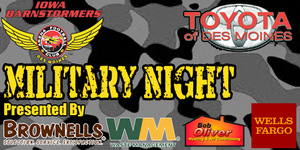 Barnstormers Military Night 2011
Presented by Bob Oliver Heating and Air Conditioning, Waste Management, Wells Fargo, and Brownells

The locally-owned Iowa Barnstormers are committed to building strong relationships and strong communities. This July 1, help the Barnstormers honor those who have dedicated their lives to defending our country. Businesses, organizations, and individuals can purchase tickets to the July 1 Barnstormers game which will be distributed to Iowa service men and women, veterans, and their families. Look at the packagesbelow to find out how you can help!

- 45 Tickets for Military Families
-Listing in Barnstormers game program, "Storm Watch"
-PA/Video Board Mention during July 1 game
-Listing on the Community Section of the Iowa Barnstormers website


Cost: $500



The Major Package
-25 Tickets for Military Families
-Listing in the Barnstormers game program "Storm Watch"
-PA/Video Board Mention during the July 1 game
-Listing on the Community Section of the Iowa Barnstormers website


Cost: $300



The Lieutenant Package
-12 Tickets for Military Families
-Listing in the Barnstormers game program "Storm Watch"
-PA/Video Board Mention during the July 1 game
-Listing on the Community Section of the Iowa Barnstormers website


Cost $150



Extra tickets may be added on at $13 a piece and they will be included in your contribution

Click here for order form for businesses

Click here for order form for indiviuals for only $50