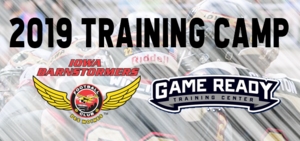 Iowa Barnstormers Kickoff Training Camp in Des Moines
Pre-Season Workouts Began Thursday, February 7
DES MOINES – Iowa Barnstormers Vice President and Chief Operating Officer John Pettit along with Head Coach Dixie Wooten unveiled plans today regarding the team's 2019 Training Camp.
This season, the Iowa Barnstormers will be holding their 2-week training camp in Des Moines, Iowa at the Game Ready Training Center. Training Camp officially opened February 7 when 35 players from around the country touched down in Des Moines. These athletes will work to earn a spot on the Barnstormers 2019 roster. Throughout the Iowa Barnstormers Training Camp, team practices will take place daily at 7:00 a.m. at the Game Ready Training Center (3217 NW Prairie Lane, Des Moines, IA 50313) beginning Monday, February 11. Training Camp practices will be open to the general public and all media beginning Tuesday, February 12.The team's full practice schedule is available below.
In addition to regular practices, the Iowa Barnstormers will host the Nebraska Danger in a closed joint practice on Friday, February 15 at Sportsplex West. This practice is closed to the general public and spectators are not permitted.
Season Tickets are on sale for the Iowa Barnstormers 2019 season starting as low as $80 per seat. Season Tickets are the perfect gift for the football fan in your family. Don't miss a minute of the action this season! For more information, call the Barnstormers at (515) 633-2255 or log onto www.theiowabarnstormers.com.
Week 1:
| | | |
| --- | --- | --- |
| Tuesday, February 12 | 7:15am-9:15am | 10:15am-11:30am |
| Wednesday, February 13 | 7:15am-9:15am | 10:15am-11:30am |
| Thursday, February 14 | 7:15am-9:15am | ------------------------ |
| Friday, February 15 | CLOSED PRACTICE | ------------------------ |
Week 2:
| | | |
| --- | --- | --- |
| Monday, February 18 | 7:15am-9:15am | ------------------------- |
| Tuesday, February 19 | 7:15am-9:15am | ------------------------- |
| Wednesday, February 20 | 7:15am-9:15am | ------------------------- |
| Thursday, February 21 | 7:15am-9:15am | ------------------------- |
| Friday, February 22 | 7:15am-9:15am | ------------------------- |
PRACTICE TIMES ARE SUBJECT TO CHANGE
###