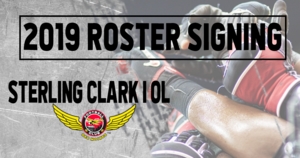 Barnstormers Add Offensive Lineman
OL Sterling Clark Signs with Iowa Barnstormers
DES MOINES – The Iowa Barnstormers have signed offensive lineman Sterling Clark to the 2019 roster, Head Coach Dixie Wooten announced today.
Clark (6-6, 325, Wilmington College) joins the Iowa Barnstormers for his first season with the Iowa Barnstormers. Collegiately, Clark spent four years with Wilmington College. During his time with the Fighting Quakers, Clark appeared in 37 total games.
No stranger to the indoor game, Sterling spent his rookie season in 2018 with the Maine Mammoths of the National Arena League (NAL).
"I'm looking forward to seeing Sterling play," said Coach Wooten. "He has a year of experience under his belt, so I want him to come to camp and show that he can play at a high level and earn his spot on the final roster."
Clark is the final player to enter the Iowa Barnstormers 2019 Training Camp which kicked off last week. Clark joins 33 other hopefuls vying for a spot on the Barnstormers final roster.
Season Tickets for the Iowa Barnstormers 2019 season are available now! For as low as $80 per seat, fans can enjoy the action from the same great seat location each game. For more information, call the Barnstormers at (515) 633-2255 or log on to www.theiowabarnstormers.com.
###