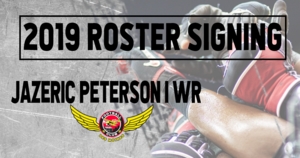 Barnstormers Add Wide Receiver
Iowa Barnstormers Sign WR Jazeric Peterson
DES MOINES – The Iowa Barnstormers have signed wide receiver Jazeric Peterson to the 2019 roster, Head Coach Dixie Wooten announced today.
Peterson (6-1, 190, Faulkner University) joins the Iowa Barnstormers for his rookie season in the Indoor Football League (IFL). Collegiately, Peterson began his career at Alabama State University before transferring to Faulkner University where he spent four seasons with the Eagles.
"Peterson brings another force to our wide receiver group," said Coach Wooten. "I look forward to seeing him come to camp and show us how talented he really is."
Season Tickets for the Iowa Barnstormers 2019 season are available now! For as low as $80 per seat, fans can enjoy the action from the same great seat location each game. For more information, call the Barnstormers at (515) 633-2255 or log on to www.theiowabarnstormers.com.
###