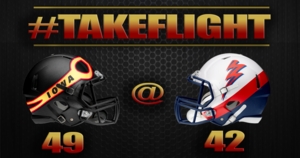 Barnstormers Take Down Storm
Barnstormers Beat Storm 49-42 in Sioux Falls
DES MOINES - The Iowa Barnstormers (6-2) beat the Sioux Falls Storm (6-3) 49-42 Saturday night at Denny Sanford Premier Center in Sioux Falls, South Dakota.
The Iowa Barnstormers began the game strong with two rushing touchdowns from running back Jamal Tyler. Iowa quarterback Drew Powell followed by running the ball in himself for a Barnstormers touchdown, leading the Storm 21-0. Sioux Falls found their way onto the board in the second quarter with a quarterback keep for a touchdown, 21-7. Powell found receiver Brady Roland in the end zone on a 44-yard touchdown pass increasing the Barnstormers lead 27-7. Sioux Falls responded with a rushing touchdown from quarterback Lorenzo Brown, 27-14. Sioux Falls added to their score when Powell was sacked in the end zone for a Storm safety, 27-16. The Storm closed out the second quarter with a 1-yard touchdown run, closing the gap 27-23.
The Storm took the lead at the start of the third with a rushing touchdown from wide receiver Dillon Turner, 29-27. Powell answered with a 27-yard run of his own, stealing back the lead 33-29. The back and forth battle continued into the fourth quarter as Sioux Falls' Brown connected with wide receiver Mike Tatum for a touchdown, 36-33. Iowa answered back when wide receiver Ryan Balentine caught a 21-yard touchdown pass from Powell, 40-36. On the next drive, Powell threw another touchdown pass this time into the arms of receiver Sheldon Augustine, 46-36. The battle continued as Sioux Falls' kicker Miles Bergner made a 39-yard field goal and Iowa answered with a 17-yard field goal from kicker Cody Barber on the next drive keeping Iowa in the lead, 49-39. Sioux Falls' kicker Miles Bergner made a 25-yard field goal to finish the game, but it was not enough to seal the win as the Iowa Barnstormers took the victory, 49-42.
This marks the first time the Iowa Barnstormers have beat the Sioux Falls Storm in the history of the two teams meeting.
The Barnstormers will return to Wells Fargo Arena on Friday, May 11, 2018 as they face off against the Cedar Rapids Titans. Kickoff is set for 7:05 p.m. Tickets are available at the Iowa Barnstormers official website. Season tickets are also available. Call 515-633-2255 to speak with a ticket representative.
###