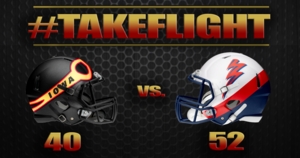 Barnstormers Edged Out by Storm
Iowa loses 52-40 in Des Moines
DES MOINES - The Iowa Barnstormers (2-1) lost to the Sioux Falls Storm (2-1) 40-52 Sunday afternoon at Wells Fargo Arena in Des Moines, IA.
At the start of the first quarter, the Barnstormers were able to score with a strong Quarterback run play for a touchdown by Drew Powell. The Storm answered back on their next drive with a receiving touchdown to equalize the game 7-7. Sioux Falls Quarterback Lorenzo Brown threw for another touchdown on the following possession making it 14-7. The Barnstormer's Kicker Cody Barber successfully made field goal to make the score 10-14. The Storm returned with a quarterback touchdown run by Lorenzo Brown to take an 11 point lead. In the closing seconds of the half Barnstormer's Drew Powell connected with Wide Receiver Brady Roland for a touchdown to make the halftime score 17-21.
The third quarter began with the Storm Kicker Mile Bergner making a field goal to increase the Storm lead to 7. Drew Powell was able to punch in his second touchdown on the ground for the afternoon to tie the game at 24. The Storm took back the lead after Running Back Marques Rodgers sneaks the ball in on a running play. Less than a minute later Barnstormer's Running Back Donavan Williams ran in for a touchdown to tie the game up at 31 towards the end of the third quarter.
Lorenzo Brown kicked off the fourth quarter by connecting with Wide Receiver Mike Tatum for the Sioux Falls touchdown giving the Storm a 38-31 lead. Iowa cut the lead down to only 4 points after Cody Barber made another field goal. Lorenzo Brown stormed down the field and finished throwing a touchdown pass to Wide Receiver Judd Harrold making it 34-45. Drew Powell marched the ball in for his third rushing touchdown of the game, but the Barnstormers were unable to make the two point conversion. Lorenzo Brown threw his fourth receiving touchdown of the day to Wide Receiver Brandynn Clark to change the score to 52-40.
The Barnstormers will return to Wells Fargo Arena on Saturday, April 14, 2018 against the Nebraska Danger. Kickoff is set for 7:05 p.m. Tickets are available at the Iowa Barnstormers official website. Season tickets are also available. Call 515-633-2255 to speak with a ticket representative.
###