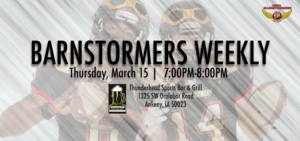 Join us at Thunderhead Sports Bar & Grill on Thursday, March 15 from 7:00pm-8:00pm for Barnstormers Weekly! Host Joe Stasi will be broadcasting LIVE on 1460 KXnO with Head Coach Dixie Wooten and special player guests DB Jeremy Gloston and WR Jonathan Duarte.
Enjoy $3.50 tall boys throughout the show!
NOTE: Barnstormers Weekly will be moving to 6:00pm starting next Thursday, March 22! Make sure to mark your calendars!
Thunderhead Sports Bar & Grill
1325 SW Oralabor Road
Ankeny, IA 50023