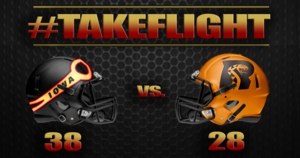 Barnstormers Fly High Over Rattlers in Home Opener
Iowa wins 38-28 in Des Moines
DES MOINES - The Iowa Barnstormers (2-0) beat the reigning Indoor Football League (IFL) champions the Arizona Rattlers (1-1) 38-28 Saturday night at Wells Fargo Arena in Des Moines, IA.
At the start of the first quarter the Arizona Rattlers got on the board after a touchdown catch by Wide Receiver Anthony Amos, but the Rattlers were unable to make the PAT. Within minutes Iowa Barnstormers Quarterback Drew Powell was running the ball into the end zone to take the lead 7-6. Iowa Defensive Back Bryce Enyard was able to close out the first quarter with an interception to end the Arizona drive in the end zone. Barnstormer's offense stormed down the field and finished the drive with Drew Powell connecting with Wide Receiver Sheldon Augustine for the touchdown. The score at halftime was the Iowa Barnstormer 14 Arizona Rattlers 6.
To start the third quarter Drew Powell wasted no time finding Wide Receiver Brady Roland for another Iowa touchdown giving them the 21-6 lead. Iowa defensive back Rocky Hayes came up with a huge interception to shut down Arizona's drive in the end zone. Rattlers Quarterback Jeff Ziemba was able to make the throw to wide receiver Jamal Miles for the touchdown making it 21-13.
Brady Roland began the fourth quarter by grabbing his second touchdown pass of the night to extend the Iowa lead to 15 points. Rattlers Running Back Darrel Monroe punched in a touchdown with a short running play making the score 28-21 after a successful two point conversion. Drew Powell snuck the ball into the end zone for the touchdown on a running play changing the score to 35-21. Bryce Enyard came down with his second interception of the night in the Rattler's end zone. Arizona connected with Anthony Amos on a small passing play for a touchdown to bring the score within 7. Iowa Kicker Cody Barber successfully kicked a field goal in the final seconds of the game to help the Barnstormers win 38-28.
The Barnstormers will return to Wells Fargo Arena on Sunday, March 18, 2018 for their home opener against the Sioux Falls Storm. Kickoff is set for 3:05 p.m. Tickets are available at the Iowa Barnstormers official website. Season tickets are also available. Call 515-633-2255 to speak with a ticket representative.
###