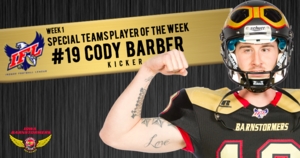 Barber Earns IFL Honors
K Cody Barber Earns Week 1 IFL Special Teams Player of the Week
DES MOINES - Iowa Barnstormers kicker Cody Barber was named the Indoor Football League's Special Teams Player of the Week for Week 1, the League announced today.
Barber (6'3, 200, N/A) earned IFL Special Teams Player of the Week following a perfect performance during the Barnstormers season-opening victory over the Green Bay Blizzard. Barber converted two out of two field goals and was a perfect five for five extra points. Barber's two field goals during the second quarter helped Iowa build a seven point lead going into halftime, a lead the team was able to hold onto. Barber totaled 11 points on the night.
The Indoor Football League awarded linebacker Myke Tavarres of the Nebraska Danger with Defensive Player of the Week and the Barnstormers very own quarterback Drew Powell with Offensive Player of the Week.
The Barnstormers return to Wells Fargo Arena on Saturday, March 10 for their home opener as they face the Arizona Rattlers. Kickoff is scheduled for 7:05 p.m. The first 1,000 fans at the game will receive a free magnet schedule. Tickets to the game are available by calling the Iowa Barnstormers front office at (515) 633-2255 or visiting www.theiowabarnstormers.com.
###